Warm Breezes
(Sunica Markovic)
CORONAL HOLE: NASA's STEREO-B spacecraft is monitoring a vast hole in the sun's atmosphere--a "coronal hole." It's the dark region denoted by arrows in this extreme ultraviolet image taken during the early hours of Dec. 30th: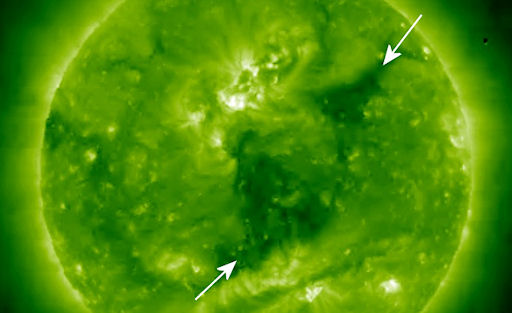 Coronal holes are places in the sun's atmosphere where the solar magnetic field opens up and allows solar wind to escape. A stream of solar wind flowing from this coronal hole should reach Earth on Jan. 2nd or 3rd--the first solar wind stream of the New Year! High-latitude sky watchers should be alert for auroras.
3D SUN: You can see this coronal hole in three dimensions on your iPhone or iPad. Download NASA's 3D Sun app for realtime images from STEREO and free solar activity alerts.
Thursday, 30 December 2010 11:42
T'was always so
'Great spirits have always encountered opposition from mediocre minds. The mediocre mind is incapable of understanding the man who refuses to bow blindly to conventional prejudices and chooses instead to express his opinions courageously and honestly.'
 - Albert Einstein
martini
Glow (Sunica Markovic) MP3 play whole song, hi-fi (broadband) http://www.sunicamarkovic.com/music.html Cyber Diplomacy Nicki Minaj wears sexy lingerie on King Magazine cover, says she's looking to get freaky Read more: http://www.nydailynews.com/gossip/2010/12/29/2010-12-29_pink_elephant_star_nicki_minaj_says_she_wants_a_man_who_can_bring_out_the_freak_.html#ixzz19cjYZITy Tajms: Neizvesno da li će se Putin kandidovati za predsednika | 30. 12. 2010. - 11:29h | Komentara: 3 Iduća... Continue reading