Ocean View
Letters: Alexander, Corker cut deal with Obama?
jan. 03 2011
U.S. Sens. Lamar Alexander and Bob Corker's support of the New START treaty, against the advice of military leaders and members of their party, is an alarming development. Contrary to Alexander's claim, it is reported Russia's Vladimir Putin holds that START prohibits further development of our missile defense system, leaving our nation's defense potentially dependent upon the flawed concept of mutual assured destruction (MAD).
President Ronald Reagan understood the danger of trusting such implacable enemies. He refused to back down to Russian President Mikhail Gorbachev's threats over development of our anti-missile program, labeled "Star Wars" by the media. We know now that this resolute stance resulted in the Soviets returning to the bargaining table, and ultimately contributed to the collapse of the Soviet empire.
Rumor has it of a quid pro quo deal between our senators and the Obama administration concerning additional support for Oak Ridge National Laboratory. It seems more than coincidence that the News Sentinel's headline "Y-12 will gain from treaty," to the tune of $4 billion plus $1 billion to "help sagging pension funds." I consider this a reckless gamble with American lives in order to trumpet that they brought home this holiday bacon. I'm frightened by this hurried decision and sickened to think this might be nothing more than outright bribery. Alexander may take comfort that both countries have sufficient nuclear warheads to blow each other to kingdom come, but I do not. America needs a demonstrably effective missile defense system.
A. R. Ewing
http://www.knoxnews.com/news/2011/jan/03/letters-alexander-corker-cut-deal-obama/
AURORAS AND METEORS: "Wow!" exclaims Fredrik Broms of Kvaløya, Norway. "Tonight Earth's upper atmosphere got hit full force both by the solar wind, producing some amazing coronas in purple and green, and every now and then by a fragment from shattered comet 2003 EH1, source of the Quadrantid meteor shower." He took this picture using his Nikon D3: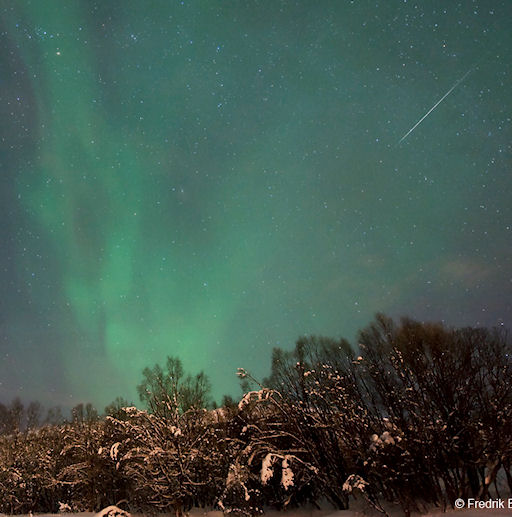 "Bitter cold weather here in northern Norway made the photo-session a bit shorter than I hoped--indeed, my lens was completely covered in ice crystals--but I managed to catch some of the beauty of this cold night," says Broms.
.........................
...................
Obama called one of the most corrupt Presidents in modern times
UPDATE 1/3/11: Massive Earthquake Fears Rise After Mysterious Object Moves Nearer To Earth
The Book of Revelation
Chapter 18
17

For in one hour so great riches is come to nought. And every shipmaster, and all the company in ships, and sailors, and as many as trade by sea, stood afar off,

18

And cried when they saw the smoke of her burning, saying, What city is like unto this great city!

19

And they cast dust on their heads, and cried, weeping and wailing, saying, Alas, alas that great city, wherein were made rich all that had ships in the sea by reason of her costliness! for in one hour is she made desolate.

20

Rejoice over her, thou heaven, and ye holy apostles and prophets; for God hath avenged you on her.

21

And a mighty angel took up a ston

  e like a great millstone, and cast it into the sea, saying, Thus with violence shall that great city Babylon be thrown down, and shall be found no more at all.

( UPDATE 1/3/11: Massive Earthquake Fears Rise After Mysterious Object Moves Nearer To Earth )

22

And the voice of harpers, and musicians, and of pipers, and trumpeters, shall be heard no more at all in thee; and no craftsman, of whatsoever craft he be, shall be found any more in thee; and the sound of a millstone shall be heard no more at all in thee;

23

And the light of a candle shall shine no more at all in thee; and the voice of the bridegroom and of the bride shall be heard no more at all in thee: for thy merchants were the great men of the earth; for by thy sorceries were all nations deceived.

(RHIC-EDOM) .......I see these truly rich people

The Science Of Getting RichCIA official explained to the GAO, referring to the agency's infamous MKULTRA mind-control experiments, "The names of those involved in the tests are not available because names were not recorded or the records were subsequently destroyed." Besides, said the official, some of the tests involving LSD and other psychochemical drugs "were administered to an undetermined number of people without their knowledge.".....................

.......

..................................

So strong was the American Military and Intelligence establishments' belief that only by "

erasing

" the previous "

battle stained

" memories of their Soldiers could they be made to continue killing and dying that

in 2007 they contracted

with Russia's Psychotechnology Research Institute in Moscow to purchase a system called Semantic Stimuli Response Measurements Technology (

SSRM Tek

) which is a

 

software-based

 

mind reader

  

that tests a subject's involuntary

  

response to subliminal messages

 

and which was used by the Soviet Military on Russian troops being redeployed to Afghanistan.

Unfortunately for the Americans, and who were undoubtedly warned by their Russian counterparts about this, the previous Soviet experiments using SSRM Tek software combined with RHIC-EDOM technology had a very dangerous side-effect of "triggering immediate battle memories" instead of "erasing" them and resulting in masses of Russian troops who were undergoing these experiments to "erupt" in "immediate violence" which left an estimated 37 of them dead when they began (for no apparent reason) to begin firing upon each other.















http://amadeusmusicinstruction.typepad.com/blog/2011/01/rhic-edom.html#tp

24

And in her was found the blood of prophets, and of saints, and of all that were slain upon the earth.

http://www.angelfire.com/alt/scmerritt/bible/B66C018.htm

 
Labs seek clues after 3000 birds die in Arkansas
We Are Love, We Are Wisdom, We Are (Sunica Markovic) MP3 play whole song, hi-fi (broadband) http://www.sunicamarkovic.com/music.html CTV.ca Labs seek clues after 3000 birds die in Arkansas The Associated Press - ‎39 minutes ago‎ LITTLE ROCK, Ark. (AP) - Wildlife experts are trying to solve a mystery that evoked images... Continue reading