HvalaISvimaOstalimaNaInternetuNaPratnj
i
IRecimaPodrskeIOhrabrenja!IzgledaKisovitoUThailandu
SadaIVodaUlaziUPecinskeTunele!
https://mobile.twitter.com/sunicamarkovic/status/1016675860596830208
Rescuers pull last group of boys and their coach from Thailand cave
A nightmare that began on June 23 for 12 Thai boys and their soccer coach ended Tuesday evening when the last five of the group were taken from a flooded cave in northern Thailand, triggering joy and celebration across the country.
The Thai navy SEALs confirmed that all four boys and the coach were safe.
//www.latimes.com/world/africa/la-fg-thai-cave-rescue-day3-20180710-story.html?outputType=amp
KO SU SPASENI DEČACI
Njih 12 provelo je skoro tri nedelje u POPLAVLJENOJ PEĆINI,
a jedan od njih pod zemljom je imao poseban dan (FOTO)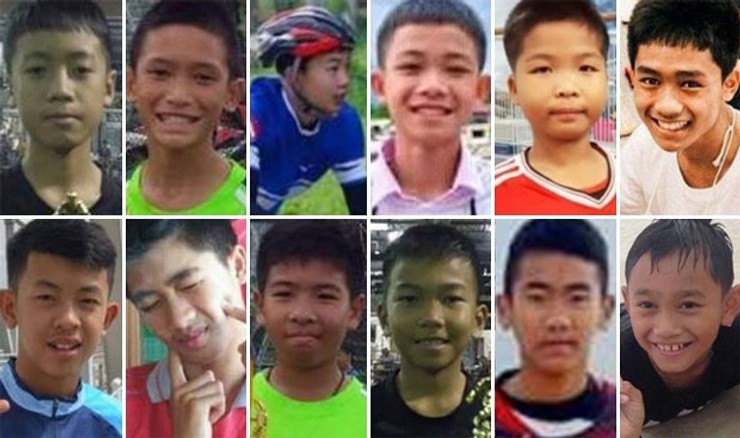 Svih 12 dečaka i njihov trener spaseni su iz poplavljene pećine na severu zemlje gde su proveli više od dve nedelje. Akcija spasavanja u kojoj je učestvovalo 90 spasilaca iz celog sveta trajala je tri dana. Danas, poslednjeg dana akcije, spasilački tim izveo je na površinu najmlađeg (11) i najstarijeg (25) člana fudbalskog tima "Divlje svinje" i još dva dečaka.
Dečaci su uzrasta od 11 do 16 godina. U našoj galeriji pogledajte ko su oni.
Video: Ovako su dečaci izvučeni iz pećine
https://www.blic.rs/vesti/svet/ko-su-spaseni-decaci-njih-12-provelo-je-skoro-tri-nedelje-u-poplavljenoj-pecini-a/nsz397t
The three Royal Thai Navy SEAL divers and medics who stayed in the cave with the boys and coach since they were located on
https://abcnews.go.com/International/photos-emerge-thai-navy-seals-medic-successful-cave/story?id=56482580
Seven Seals
(Sunica Markovic)
//sunicamarkovic.com/music2.html
WhatIsDotTellingU?StrongAfterEffectMiteIndicateMoreOutOfControleShaking>~Where?~SomewhereInTheWorld (link: https://mobile.twitter.com/sun …
//amadeusmusicinstruction.typepad.com/blog/2018/06/frijune222018.html